Review
PPPoker is a popular mobile online poker application created in 2016. Since then, it has been one of the largest online platforms for smartphones, tablets and other devices. It is currently available for downloading and launching worldwide, active users are players from over 100 countries! PPPoker always tries to offer the best gaming opportunities.
The PPPoker team strives to provide a safe and fair game for all poker lovers. The slogan of PPPoker is "For Poker Lovers, By Poker Lovers" For poker enthusiasts from poker enthusiasts.
In the beginning, it was a platform for friendly games with virtual chips. Any user could create a private club, organize tables and invite other members. The popularity of the application grew rapidly. Chips began to turn into real money, and professional agents appeared.
In some countries, online poker is restricted by law and in such regions there is a place for underground games. The PPPoker mobile app solves this problem. Therefore, players from all over the world come here. Entire poker clubs from different countries are transferred to the PPPoker platform, larger ones even form alliances. PPPoker gives users an experience close to offline. Games are held in closed sesions, all calculations are made without disclosing personal information. Players appreciated the user-friendly interface and the ability to play in a familiar company.
Benefits of the PPPoker Platform
large selection of formats and games
comfortable rooms and interesting design
regular freerolls and tournaments with various buy-ins
honest and verified RNG
secure deposits and withdrawals
there is a cryptocurrency and all popular payment systems
your personal agent handles money transactions
there are private clubs for playing with friends
promotions and bonuses available for new players
big rakeback (up to 60%)
you can play with different opponents from different countries and continents
there are a lot of amateur players
convenient multi-tabling function
ban on third-party software
Software
Poker is a way of entertainment and earning, which is of interest to many people. From time to time, players face all sorts of access problems: blocking providers, looking for a working mirror, difficulties with authorization - this is the scourge of the modern industry. Therefore, PPPoker is the largest and most accessible platform for playing online poker.
The PPPoker platform was created focusing on poker rooms from China. The main innovation and feature is vertical tables! This is convenient for playing with one hand. There is access to personal statistics. You can also watch the results of other players. The software has gone through many changes, but in recent years it has remained stable.
Active players can build an entire career within the application and track their activity. It is possible to save hands for further study, share and view replays - there are all the necessary tools for this.
Disconnection protection
PPPoker understands that sometimes due to external factors related to the Internet connection, players sometimes face problems, which can result in forced inactivity and loss of money. This problem is solved by the disconnection protection feature, which gives the player additional time to act in order to establish a connection to the table before he is disconnected.
The best protection system
Advanced built-in DDOS protection automatically detects and identifies all kinds of threats, blocking advanced attacks and keeping your server secure and reliable at all times. PPPoker always strives to maintain the security and stability of the gaming platform minimizing all risks, including accidents involving third parties.
Benefits of the PPPoker platform
Large selection of formats and games
Comfortable rooms and interesting design
Regular tournaments with various buy-ins
Convenient multi-tabling function
Honest and verified RNG
Secure deposits and withdrawals
There is a cryptocurrency and all popular payment systems
Your personal agent handles money transactions
There are private clubs for playing with friends
Promotions and bonuses available for new players
Big rakeback (up to 70%)
You can play with different opponents from different countries and continents
There are a lot of amateur players
Ban on third-party software
Popular Games and maximum limits
| | | | |
| --- | --- | --- | --- |
| Limits NLH | Tables | Limits PLO | |
| | | | |
| | | | |
| | | | |
| | | | |
| | | | |
| | | | |
Community and Support
The main pool is made up of Asian players due to the increased popularity in this region. But even among the entire Russian-speaking community, the described poker mobile platform is in great demand. For those who like to organize and hold private games, the application is perfectly suited.
Positive feedback about PPPoker mainly relates to a convenient and responsive application, the ability to create your own club with a rating and taking into account the activity of participants, and the availability of various bonus programs. And finally, the application has its own forum where you can publish giveaways and text posts, as well as read the latest news from other users. You can always discuss something on the forum, and address any question to the online support service.
JACKPOT
Coler Jackpot is used in all NLH, PLO and Mixed Games games
(NLH and PLO) including 3-1 NLH, 6+, PLO4, PLO5 and PLO Hi\Lo.
For multi-board hands, the jackpot can only be won on the first board. The jackpot can only be won if the total value of the pot is equal to or more than 20 BB. All players at the table who are dealt cards receive a portion of the Cooler Jackpot reward on Full House with Jacks (JJJXX) against Four of a Kind or better, according to the payout structure (losers/winners/others). The winner and the loser must use two cards each in the deal to qualify for the jackpot payout. The detailed payout structure, if JACKPOT is "enabled" in your club, can be viewed by clicking on the jackpot picture, "Payout structure" tab
Bonus system
PPPoker in the general sense is not a centralized poker room, but a platform for private online poker clubs and unions. Bonus systems are implemented within each private club individually. New players get the opportunity to take advantage of various bonuses and promotions, it all depends on the club and, of course, the loyalty of the administrator of this club. Bonuses can be different: first deposit bonus, high rakeback, tickets to online tournaments or even different gadgets (such as smartphones or tablets) won at the end of the rake race. Nobody will be left without a gift. But in addition to games in closed clubs, there is also a general lobby where you can play for virtual money. At such tournaments, gadgets or tickets to offline poker series are played.
Rake and rakeback
Among the most popular games are Omaha, Hold'em and Chinese poker. On the PPPoker platform, you will find all their varieties, so each user will find their place at the table. The size of the rake is set by the owner of each club, usually it is 5% with a cap of 3BB. But sometimes the club administrator can determine a higher percentage. There is no rake from preflop! The possibility of rakeback can reach 60%, it depends on the conditions of a particular club.
Our site gives you the opportunity to play on the PPPoker platform in our personal clubs and unions, as well as more than 20 clubs on six other platforms.
Clubs and traffic
Within PPPoker, you can join existing clubs or create your own: play poker online with friends and family members. The application has a large number of unions and clubs from around the world. Recently, some of them have grown significantly and are playing games around the clock 24/7, and at various stakes. At PPPoker, you can create your own private club and play unique, personalized games with your friends and family. Many popular poker variants are waiting for you, such as NLH, PLO, OFC, 6+, AoF. Play anytime!
More than 5,000 tables of American, Asian, Russian and other clubs are available around the clock. Of course, there is a trend towards a decrease in overall traffic due to clubs moving to alternative applications. However, PPPoker is still the most popular. The largest unions are in the Philippines, Brazil and Australia. PPPoker has spawned many other applications. Now the software is popular due to its positive aspects. Each user will find a suitable club for themselves.
Registration
You can evaluate the capabilities of the PPPoker application in guest mode even without making a deposit. But in order to play for real money and win, you need to create your account. Please note that the number of player registrations is limited.
Among the latest updates of the application, there is an opportunity to log in from your Facebook, Google, VK, Apple account, which is very convenient.
To install PPPoker go to the main page of our website and download the application, you will have access to versions of Android, iOS, Windows. After downloading and installing, launch the application and click on "Register/Login"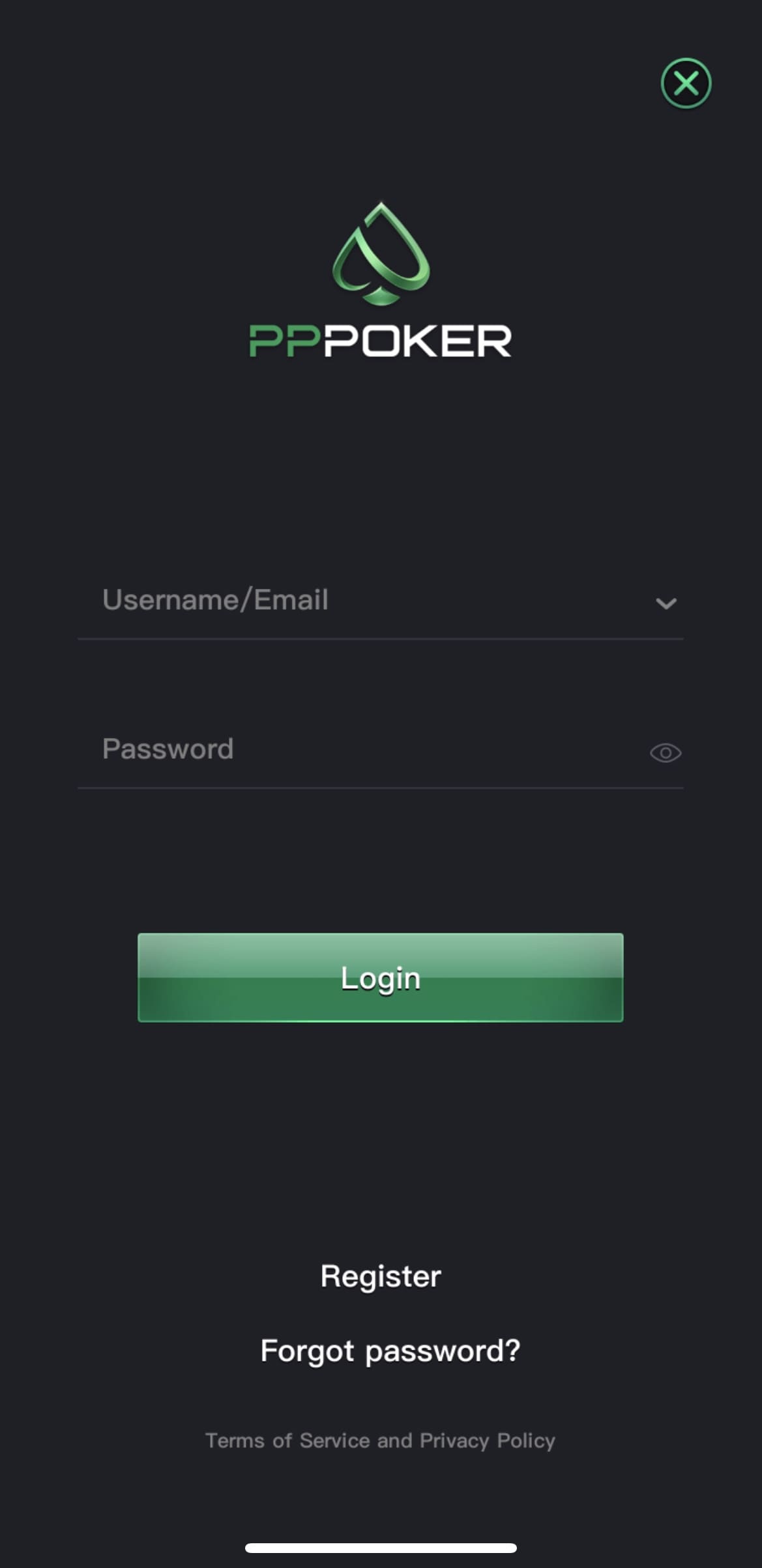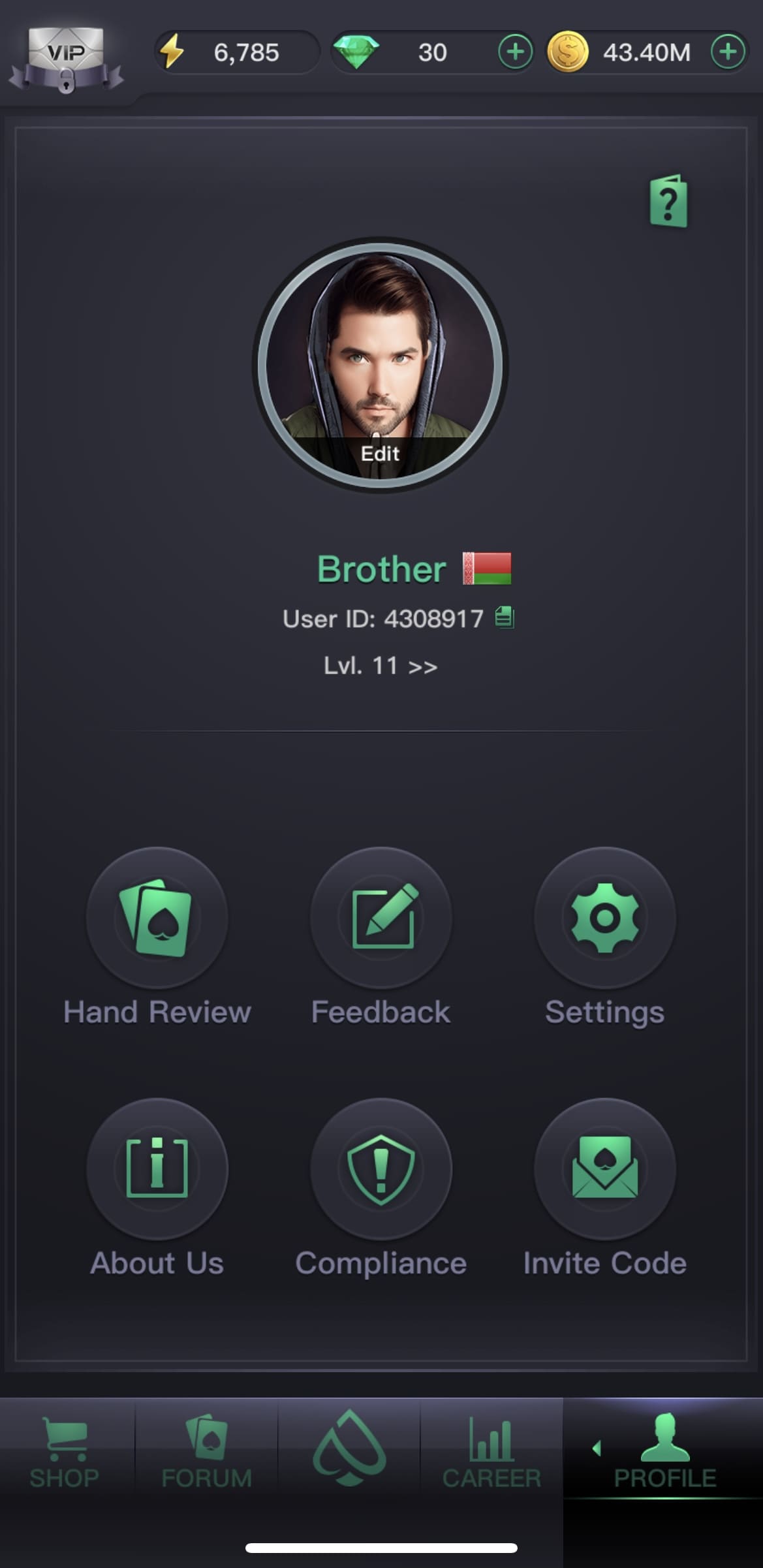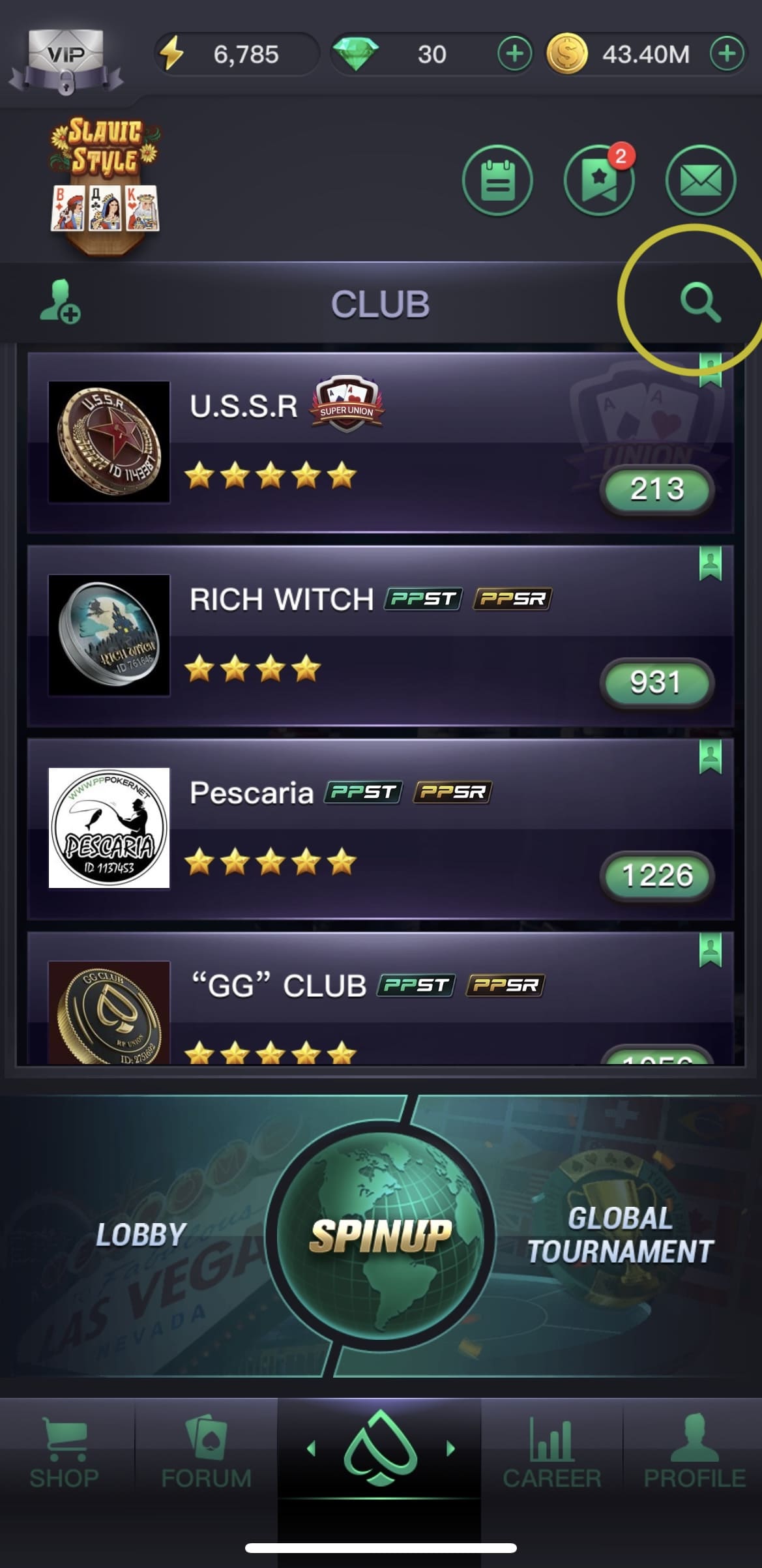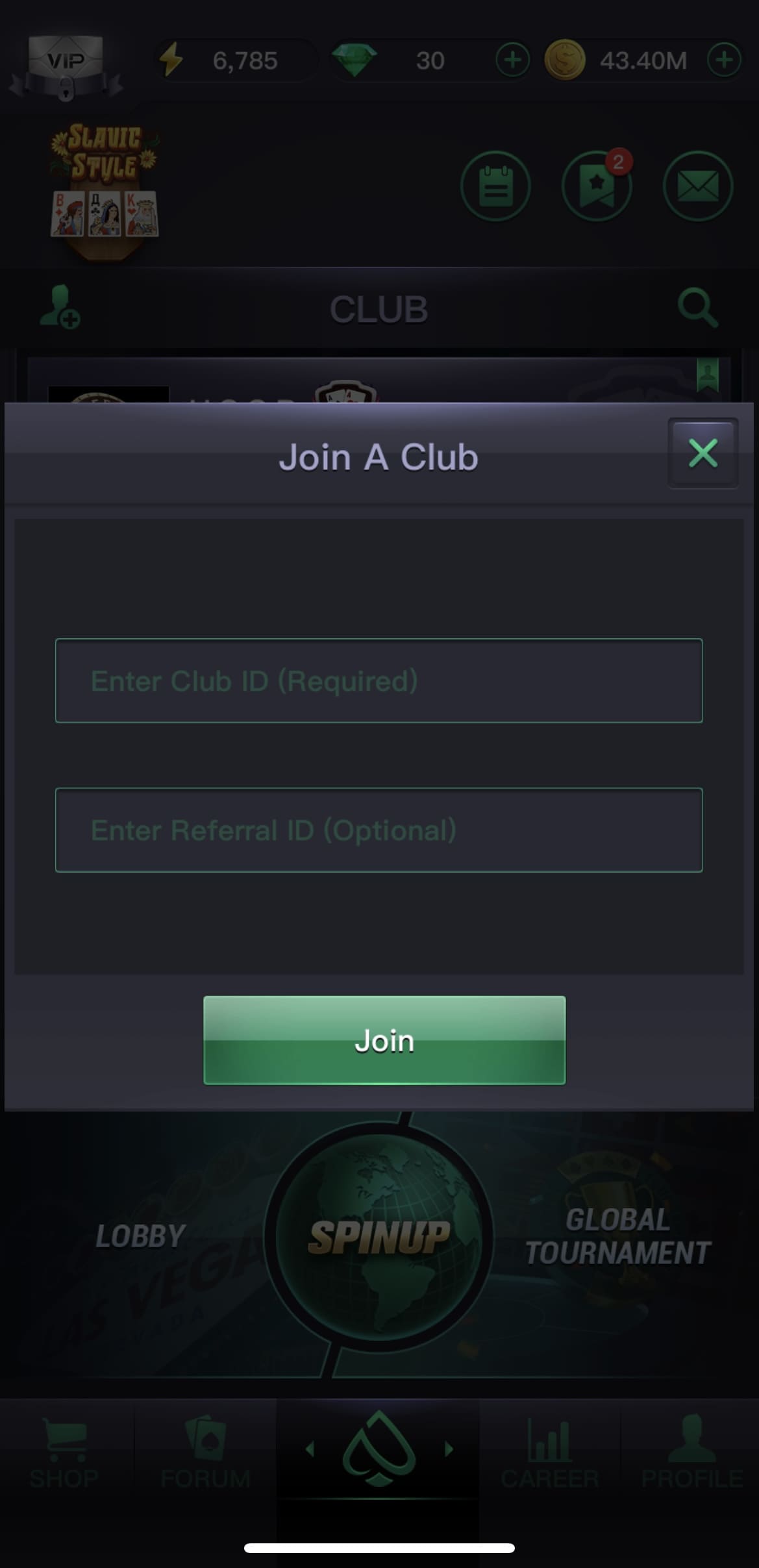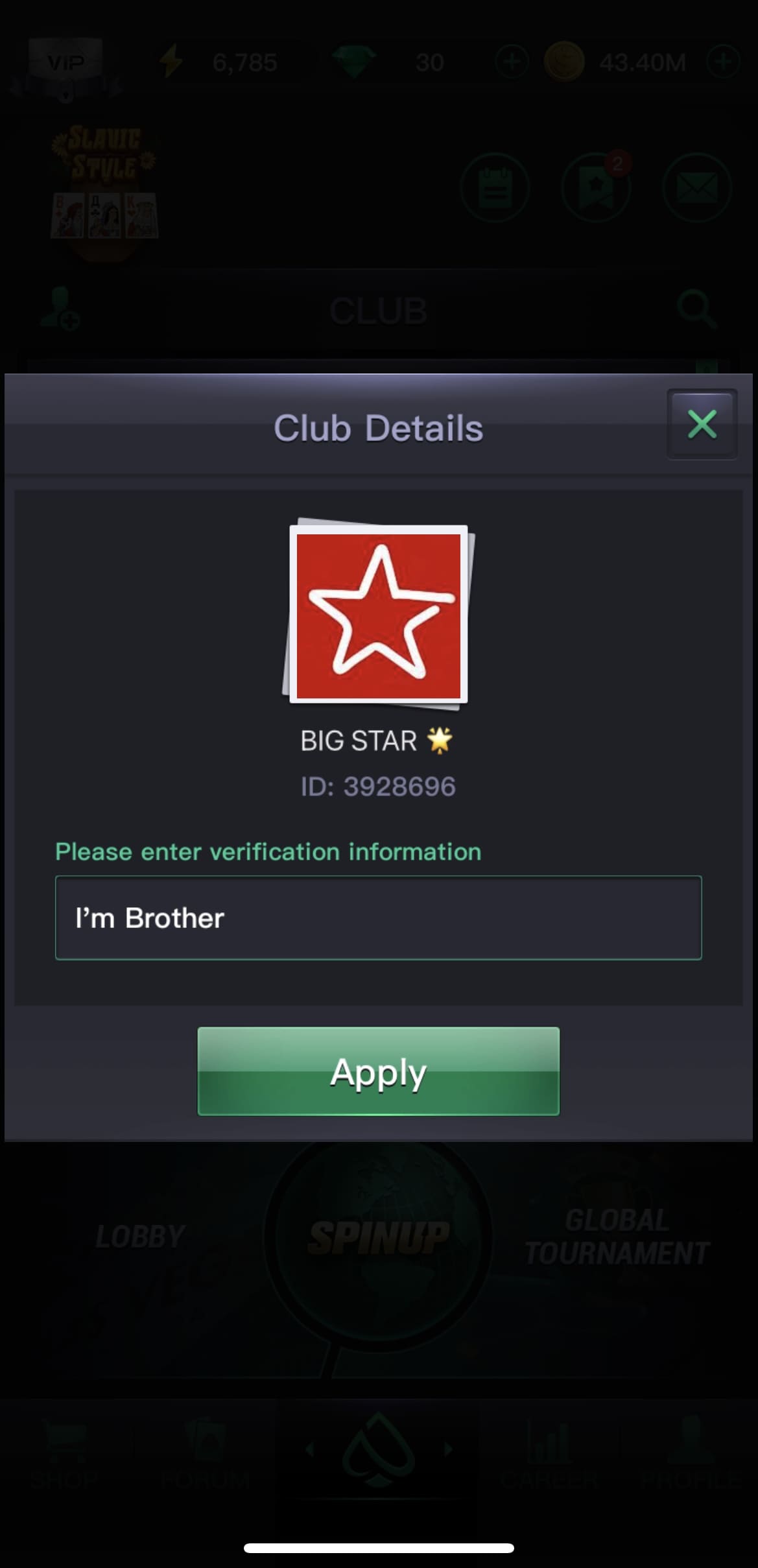 To install go to the main page of website PPPoker and download the application, you will have access to versions of Android, iOS, Windows. After downloading and installing, launch the application and click on "Register/Login"

In the new window that opens, enter your username and password, then complete the registration.

Once in the main lobby, go to the "Profile" tab and come up with your nickname and confirm it.

To join the club you need, click on "Search" (magnifier icon) and enter the club ID.

After the club administrator confirms your request, you will be automatically added to the club you need.